Success is sweet. Neal Taylor and Dr. Jeroen Lichtenauer certainly think so. They just completed their first LiveCode App! It's Hands On Turkish, an EU-funded Business Turkish course that is now available for smartphones on the Play and iOS App Stores. We asked them to share a little bit about their LiveCode experience. Here's what they said: 
Where did you get your app idea?
NT (Neal Taylor, Project Coordinator): Basically, a good friend who was trying to start a business lost his entire starting stock in Turkey due to "misunderstandings." Dismayed by his plight, we wondered if we could do something about it and make sure this doesn't happen to European entrepreneurs. We are a consortium of developers, programmers, and linguists and we have previously developed a range of eLearning resources, particularly for language learning. We noticed that, despite the growing importance of Turkey on the world stage, there are very few decent Turkish language learning resources ­that will enable learners to prepare themselves culturally and linguistically for dealing in Turkey or with Turkish businesses. As a result, we put together a fine proposal to develop a Turkish language course with a vocational focus and a clear emphasis on culture geared towards an internationally recognised standard and, most importantly, made available on a wide range of devices. The European Union, through the UK National Agency, funded this project. This is quite a significant development since, for the first time, the European Union recognises the importance of Turkey and is now actively making strategic decisions accordingly. The aim of the project is, therefore, to give learners a good understanding of the Turkish language and culture (considered 'high context'), thereby improving their chances for success and mitigating any costly errors (unlike our good friend!) when doing business in Turkey.
How did you discover LiveCode?
NT: We started looking around for solutions to make our development efficient, scalable, and versatile. We are a relatively small team and, due to the nature of our project (i.e. simultaneously developing content and tech), we cannot dedicate all our resources to programming, so we needed one solution to cater for our time constraints and the team's capacity. LiveCode seemed like a suitable solution, so we carefully followed LiveCode's progression for quite awhile and then tried the open source version. After doing some trials, we were convinced … so we continued!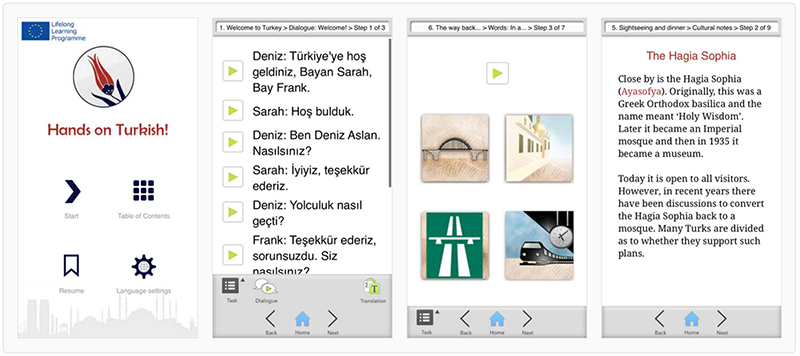 How did LiveCode help you to complete your app?
NT: LiveCode was flexible enough to create the iPhone and Android apps for a wide range of screen sizes.
JL (Dr Jeroen Lichtenauer, Programmer and Partner): I had never programmed mobile apps before and LiveCode gave me the confidence that it was going to be feasible to at least make a relatively straightforward application within the time available for this project and without having to worry about learning multiple languages at once or having to take into account all the possible OS versions, devices, and screen sizes out there.
What did you learn in the process of making your app?
JL: While using LiveCode, I kept discovering more advanced possibilities, such as creating, shaping, formatting, programming, and deleting any kind of object from code. This limitless flexibility allowed us to have our app literally build itself at run time, making use of the same xml files that we were already using for our online course software, but without having the app look or feel like a web interface. Adding course content to our mobile app is now almost as simple as just copying some files, which allowed me to spend more time on creating a better user experience with all the possibilities that mobile devices have to offer.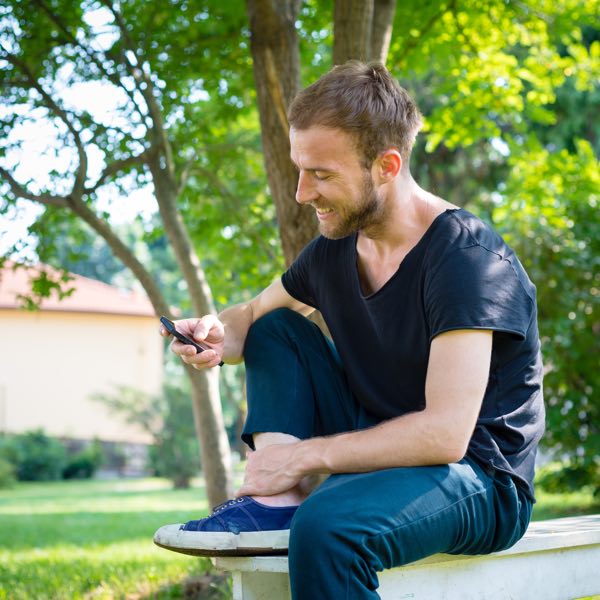 What will you do with the app now that it's complete?
NT: We are still refining the app (layout, design functions) and continuously adding more Turkish language content and more activities.
JL: We will be reporting any bugs we find when building our app with the developer preview versions of LiveCode 8 in order to use LiveCode 8′s widgets functionality and enable our exercises with microphone recording on Android devices, too.
What would you tell a first­time LiveCode user?
JL: The possibility to drag­-and-­drop new objects into an app, and to let an app scale automatically to all screen sizes are both wonderful features of Livecode for absolute beginners. However, if you already have some basic programming skills, it might be worth learning how to create, format and scale objects from code as soon as possible, allowing you to create much more flexible apps that will work and look perfect on any screen size and aspect ratio.

Will you be building any other apps? If so, what kinds of apps?
NT: Yes! We have built quite a flexible system from the ground up, so there is no reason why we cannot develop more language learning apps.
JL: My background is in computer vision and I have long wished to use mobile devices for building some augmented reality applications. I am hoping that LiveCode 8 may bring that wish closer to reality by allowing me to program the data processing algorithms efficiently in native device code while also having the ease and flexibility of LiveCode to quickly make a solid user interface that will work well on all devices.
Anything else you'd like to add?
NT: During my initial discussions with the LiveCode Team, I was very encouraged by their supportive responses and enthusiasm. I am looking forward to seeing the HTML5 release.
JL: I'm very happy and encouraged by the progress that has been made by LiveCode over the last two years. Our app wouldn't have been possible in its current form if it wasn't for the many improvements made to LiveCode since our project has started. But it is not only important that an application development software such as LiveCode can currently deliver what we need it to do now, but also that it continues to adapt to new technologies that will be coming out in the near and far future. The enthusiasm, the high frequency of updates, the quick response to bug reports, and the initiative to include HTML 5 support have indeed given me a lot of confidence in our choice for LiveCode.

read more