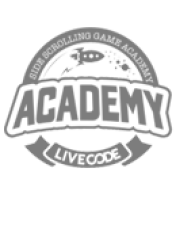 Game Academy
Learn to make a mobile game with LiveCode in 7 short sessions.
Level: Advanced
The LiveCode Side Scrolling Game Academy teaches you how to make an animated side scrolling game that takes advantage of OpenGL on mobile devices.
The academy consists of seven hour long video sessions, accompanied by code examples and reading materials. You will be making the side scrolling game �Galactic Gauntlet�, which is available on the iOS App store
https://itunes.apple.com/gb/app/galactic-gauntlet/id470771906 and Google play https://play.google.com/store/apps/details?id=com.runrev.galacticgauntlettest&hl=en. The sessions cover everything you need to know to make mobile games like this.
You will learn about:
Game design considerations
Coding basic gameplay
Animating Game pieces (e.g. manipulating sprites)
Working with layers and backgrounds
Optimizing your game performance
Managing different devices and resolutions on iOS and Android
Deploying to your iOS or Android device
Marketing your game
Going social: integrating Facebook and other social networks into your game
Game business models: Freemium (free with in-app purchases) and paid
Submitting to the app store and Android marketplace
Join a dedicated forum for peer support and assistance from our technical team. Once purchased these videos remain in your LiveCode account indefinitely, for you to visit and revisit whenever you need them.
Student feedback:
�that course was AWESOME. And it definitely makes me want to take another LiveCode course in the future.�
�Your course provided an excellent introduction to the capabilities of LiveCode. I started with little knowledge of game design and no knowledge of Live Code. Your team of instructors did a great job of teaching me the rudiments of both and showing me how to be productive developing games with LiveCode.�
View online from your account at any time, or download materials and videos to your desktop to work on.
$50